Reading time:
2
minutes
The first Una Europa staff week took place online in March, bringing together colleagues from eight leading European research universities, in a single Una community, for the first time.
Participants attended plenary sessions to learn more about Una Europa and the 1Europe Project. Other sessions were aimed specifically at colleagues involved in university libraries, and in alumni, international office and communications teams.
Members
Una Europa is a unique alliance comprising Universidad Complutense de Madrid, Freie Universität Berlin, Université Paris 1 Panthéon-Sorbonne, University of Bologna, University of Helsinki, Jagiellonian University, KU Leuven and the University of Edinburgh, which joined in 2019.
Members have a combined staff and student community of almost half a million people and aim to draw on their collective strengths to create a truly European inter-university environment.
The alliance has already successfully applied for funding for the 1Europe Project, which will focus efforts on the four areas of sustainability, data science and Artificial Intelligence, cultural heritage, and European studies. Within these areas, planned activities include joint programmes and increased mobility amongst member universities. The Project also considers what the European university of the future might look like.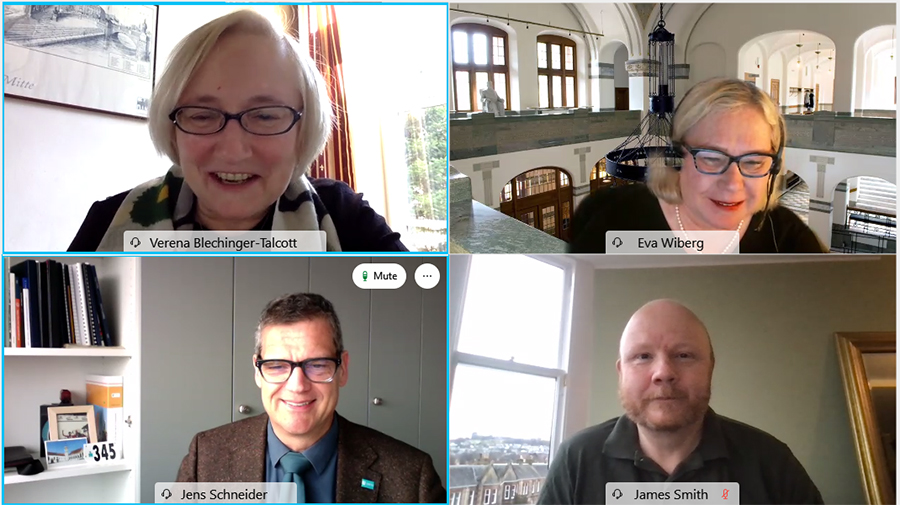 Partnerships
Jeremy Upton, Director of Library & University Collections, helped coordinate library-focused sessions and chaired breakout discussions. He said: "The Library is strongly committed to supporting the University's international partnerships.
"The Una Europa sessions had a strong sense of what we are trying to achieve and what we are supporting. Participants from all the institutions engaged with the sessions and very quickly began to talk and explore shared interests. There was a feeling of enthusiasm. Una Europa provides a framework which supports opportunities for staff to learn from colleagues in other institutions. We have the potential to develop shared training where we discover common needs and can work together on shared challenges focused on the concept of the European university."
Natalie Fergusson, Global Alumni Manager in Development and Alumni, found the week a great way to get a better understanding of the Una Europa initiative: "Alumni relations was a core topic during the event with a dedicated working group. I was pleased to have the opportunity to represent alumni relations at Edinburgh as we look to build a network among the alliance's member universities."
"It was an interesting and informative few days," Natalie continues. "It was great to connect with professionals from other institutions, hearing about their programmes and sharing ideas. The nature of my role means I already work to engage our European alumni in the life and work of the University but this experience expanded my knowledge and understanding of other important areas and projects, and how they contribute to the University's relationship with Europe."
Get involved
Further Una Europa events are planned. To get involved, visit Una Europa, sign up for Europe-themed news alerts from Edinburgh Global, or email: una.europa@ed.ac.uk