Reading time:
4
minutes
Normally when the snow falls at this time of year, and the wind whips at your face whenever you leave the house, we turn our thoughts to where we could go to escape the dark, grey winter.
Although this year, we're all still inside with no trips planned and no overseas holidays booked, the rollout of the Covid-19 vaccine at least provides a bit of hope.
But the pandemic isn't the only thing we're trying to navigate this winter. The end of the Brexit transition period means that, in early 2021, we are now entering a new chapter in our relationship with the EU. The resulting effects will be felt across the University, but although we may not be sure of the full impact right now, it's safe to say that there will be big changes.
One will be the University's involvement with the Erasmus+ scheme, which allows our staff and students to apply for funding to study or work abroad. While the UK government has decided to opt out of the next Erasmus programme, the University still has Erasmus+ funding for students and staff, available until the end of the academic year 22/23. With details on the replacement Turing scheme still to be finalised, now could be the best time to plan your own Go Abroad Staff activity.
Where can I go?
Obviously, at the moment we're all staying at home, but it won't be forever. You can use this time to research overseas institutions, plan what you'd like to gain from the experience, and organise your application. With more than 30 countries across Europe, and 13 more partner institutions across the globe, there's plenty of choice.
Lesley Balharry is Staff Programmes Manager for Study and Work away (SWAY). She's keen for staff to make use of the Erasmus+ funding we still have and, right now, it doesn't have to be used on travel.
"While we're waiting to resume a life of travel and adventure, now is the perfect time to undertake some professional development from your desk or kitchen table," she says.
"We can offer Erasmus+ funds of up to €200 to support virtual Go Abroad for Staff activities while travel is off the cards."
So what might this look like? Lesley explains: "This could be via an online course or other virtual training activity, hosted by a non-UK European host institution. Or you could start planning now for an in-country teaching or training activity, once non-essential travel is safe and possible again."
What can I do?
The short answer? Pretty much whatever you'd like. It's completely up to the applicant to identify the teaching or training they'd like to undertake and where.
Lesley explains a bit more: "The wonderful thing about the programme is that it supports staff across all areas of work and at all levels of seniority, to undertake a wide range of development activities. So academic staff can spend a week teaching a course in their subject at a partner university and gaining valuable teaching experience and a new perspective on their subject.
"And both academic and professional services staff can develop their skills in all sorts of ways: a skill-building workshop or course, a networking event, a research or lab-based activity, job shadowing, a staff training week delivered by a partner… Just tell us what you want to do! We can't fund attendance at a conference, but most other activities will be considered.
To find a bit more inspiration, you can join the Go Abroad Staff Facebook group to get in touch with other University staff who have taken part in the process. Or you can find more helpful resources on the Go Abroad Staff website.
What's it like?
Dr Christina Francis, Research Associate Local Energy Systems, School of Engineering attended the Hochschule Esslingen (HE) Higher Education International Lab Week in March 2020, which took place in Germany. She shares her experience.
"The five-day programme promised to be an interactive learning experience and intercultural exchange. However, as the days drew near, anxiety crept in as the threat of Covid-19 was imminent. The host university conducted a poll; amongst the fears and understanding that any advance Erasmus grants would have to be repaid, an overwhelming response was in favour for the event to go ahead.
"The programme did not disappoint and was well organised and executed. Approximately, 40 individuals attended from universities across the world including Asia, Europe, the UK and USA with a mix of academics from lecturers, technicians, researchers, Heads of Departments (plus students who were involved in another programme).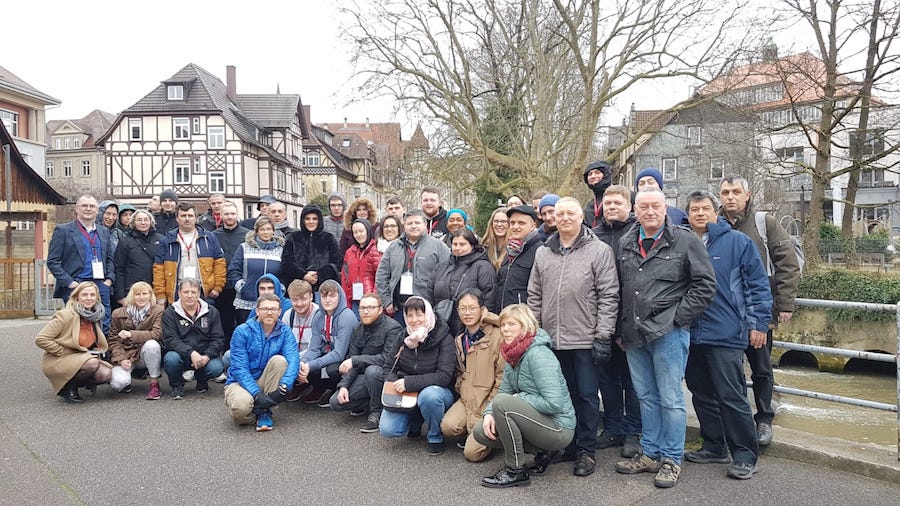 "Along with a goody bag, Covid-19 guidance notes, hand sanitisers (which was very much appreciated) were distributed; no hugs nor handshakes, so a smile was sufficient. This did not dampen the mood as each day was fun-packed with edutainment.
"HE opened the doors to a number of their state-of-the-art facilities such as the drinking water hygiene heat transfer building services laboratory which was among my favourites and introduced their support services offered to visiting academics.
"It was a terrific, informative experience not to be missed and I walked away with insightful, real-life examples to illustrate and enrich my class discussions. Glad I went not a day or week later and returned home safe and sound, eager to share the details and encourage others to attend in the future when it's safe to do so."
Christina isn't the only member of staff who found the experience incredibly rewarding. You can read more staff testimonials on the Go Abroad Staff website.
Lesley has seen first hand how beneficial colleagues have found their experiences: "Participants tell us that their Go Abroad Staff experiences help them gain experience relevant to their current role and professional development, extend their professional network, and increase their job satisfaction.
"Covid-19 and Brexit may have changed the way we see the world, but it's more important than ever that we remain global in our outlook and continue to exchange and collaborate with colleagues, partners and networks worldwide."
You can find out more about the Go Abroad Staff scheme on the dedicated University webpages. To read about the effects of Brexit on University life, visit the University News pages.