Reading time:
4
minutes
This month saw the University create, manage and operate the largest Student Covid-19 testing site in Scotland. From the moment the Universities Minister for Scotland announced on 11 November that mass testing would be available for all students wishing to travel home for the winter break, teams of staff and students across the University came together to support the project.
With only 12 days to create testing facilities to students for four of Edinburgh Higher Education institutions, staff had to work fast. After the sites for testing had been chosen, the Estates team, led by Aislinn Wood, Project Manager, worked with colleagues from the Sport and Exercise team to completely transform the two sports halls in just eight days. The entire Estates team worked tirelessly to make sure everything was ready in time.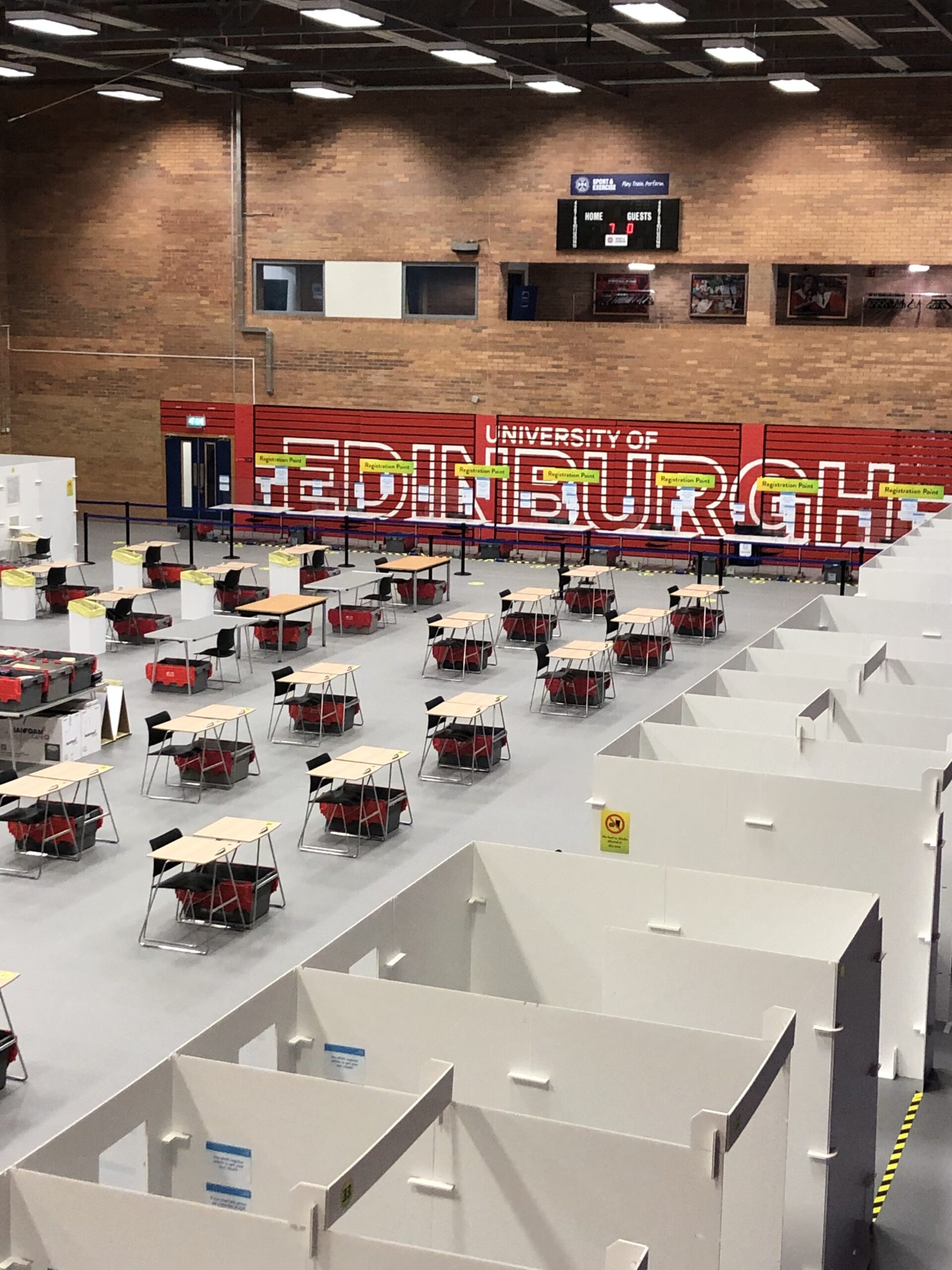 Once the sites were set up safely, volunteers were needed to staff them. With 20 shifts across 10 days to fill, around 250 staff were needed each day. The response from the University community was huge. Colleagues from teams across the institution were keen to help.
Jo Roger, Interim Head of HR (Corporate Services) took charge to manage the organisation of this workforce. Her HR team sourced, processed and trained volunteers from both the University of Edinburgh and Edinburgh Napier in just 10 days. Not only that but they also sourced another 20 per cent of backup staff volunteers in case of any outbreak of Covid-19.
Andy Donne, Adaptation and Renewal Coordinator in the Service Excellence Programme, is Programme Manager for the entire operation. He explains how volunteers came from every corner of the University, "We've people from every college and professional services group.  We've highly skilled researchers such as Professor Jürgen Haas, Personal Chair of Viral Genomics Infection Medicine, and Dr Rolly Wiegand, Head of the Confocal and Advanced Light Microscopy (CALM) Facility, Catherine Elliott, College Registrar for the College of Medicine and Veterinary Medicine, members of the Executive Group Dr Catherine Martin, Vice-Principal (Interim) Corporate Services and James Saville, Director of Human Resources, as well as colleagues from Accommodation, Catering and Events, Information Services Group, Estates, Student Services, Communications and Marketing, Timetabling, Corporate Services, University Secretary's Group, HR and many more, as well as our fabulous students."
Nikki Stuart, Digital Programme Manager (Distance Learning at Scale) led an Information Services Group (ISG) team to provide an online portal for staff to receive video training and undertake online competency tests. Although virtual training was necessary leading up to the testing dates, it was important that staff visit the testing centres in person and familiarise themselves with the tests. The weekend before they were due to start, Andy's team ran in-person training sessions. He shares how incredible it was to see the University community come together, "This for me was one of the defining moments of the set up.  All staff were invited to the site for half a day. Everyone walked in, not knowing anyone or how to perform testing and walked out as a fully-gelled, high-performing team.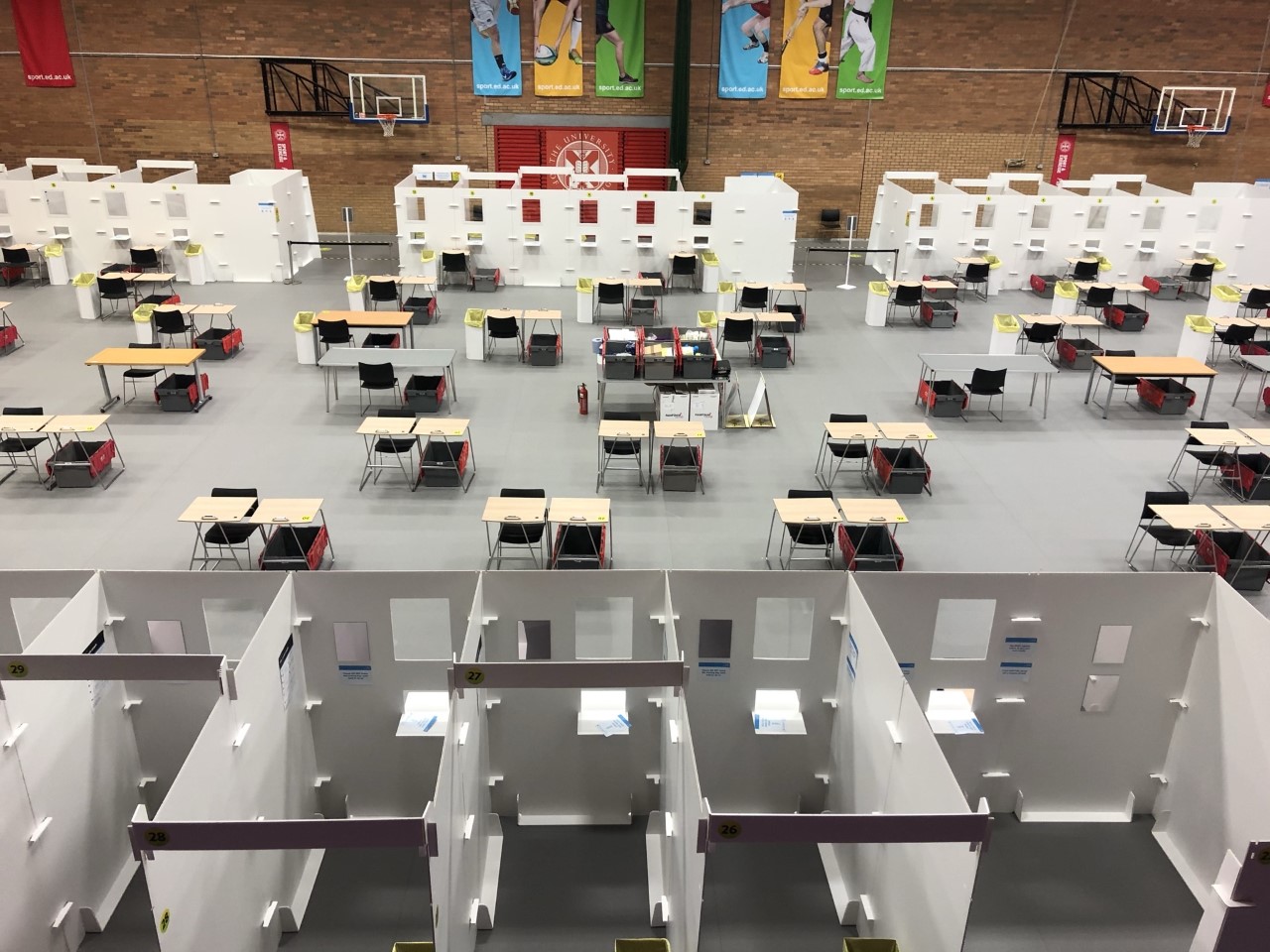 "To see a collection of strangers come together so quickly, take on board the requirements of the role, work through how to operate as a group, receive training and walk out as a team was breathtaking. Don't forget, we're talking about 500 people here!"
With such a huge group of dedicated staff and students, the site is able to process up to 70 students in just 10 minutes. With 250 staff helping out, the site is able to process up to 3,640 tests per day. This short video shows the testing sites in action.
Despite cold conditions in the sports halls (a breezy 15 degrees with both doors open) volunteer morale has been high. Andy explains how students responded to the experience, "Many of our students who are working at the site have been telling me what a great experience its been. They learnt lots of new skills, had lots of new (physically distanced) social interactions with first-year students working with and learning from final-year students."
The programme was originally due to run until Wednesday 9 December, but has now been extended until Friday 18 December. At the end of Wednesday 9th, more than 12,000 tests had been taken and processed. But the works doesn't end when the winter break starts. The team will build on the success of this project to carry out testing again in January, when students return for Semester 2. Many of the staff and students involved are keen to return to volunteer again too.
Andy is immensely inspired by the University community and their dedication to this huge project. He concludes, "The University has made history in creating the largest testing capability in Scotland and all credit to everyone who has helped build and operate it, but significant credit too to all of the students who have come through the doors to be tested  – everyone playing their part is making a difference."