Reading time:
5
minutes
The SCOPE series looking at how working lives have changed since the lockdown began continues with a focus on Edinburgh Imaging. Here we see how our radiography teams helped maintain clinical imaging services and supported NHS colleagues through the pandemic.
The radiography team at Edinburgh Imaging Facility at The Queen's Medical Research Institute (QMRI) in 'normal times' provide imaging for research projects covering a diverse range of research interests, primarily cardiovascular, lung and dementia imaging. The facility houses a 3T MRI scanner, 2 PET-CT scanners and a PET-MRI scanner. The team also delivers the NHS clinical PET-CT service for Lothian and beyond, providing crucial imaging for oncology patients.
During the main lockdown period of the pandemic, work practices drastically changed. Most research activity stopped and the team became much more focused on maintaining clinical services and supporting NHS colleagues.
Reorganising the team
The Radiography team re-structured and re-organised to support the change in scanning requirements. The main aim was to keep the PET-CT service running. Oncology patients continued to be referred for scans and the service continued uninterrupted.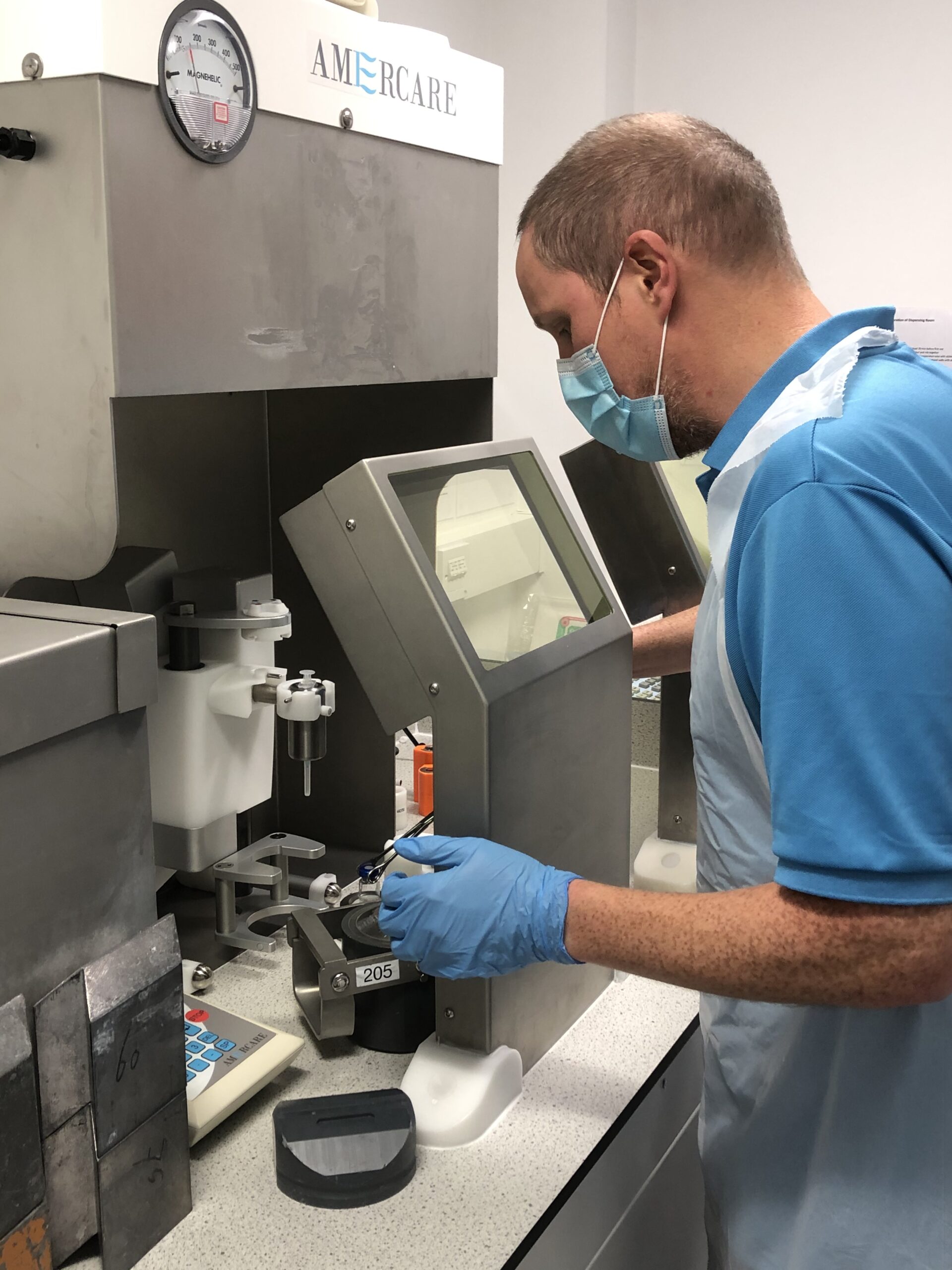 Latterly in this period, the facility began to take on the task of aiding NHS Radiology colleagues with catching up on MRI and CT waiting lists, which had increased tremendously during the lockdown. All hands were on deck to ensure as many of these patients as possible were scanned.
Bubble working
To protect staff, teams were split into two bubbles, each with a team lead and a spread of experience. These bubbles worked on a week on/week off basis, with the weeks off being spent working from home. The staff benefited from having this time to update their Continuing Professional Development, take on more office-based roles and for some, get involved in supporting the Image Analysis core of Edinburgh Imaging.
David Brian, Lead Radiographer at the Edinburgh Imaging Facility QMRI, said the new way of working was very strange to begin with, "Radiographers are used to the practical side of the job and working from home every fortnight took a bit of getting used to. The uncertainty of what would happen, especially in the initial weeks when hospitals were in danger of become overburdened, was quite unnerving. We were aware that our staff could be redeployed at any stage to work at the frontline. This did not happen in the end, but we managed to keep the facility going throughout."
PPE challenges
There were challenges with PPE and physical distancing measures, which took a while to get used to. But the team quickly developed a system of working to ensure patients were still scanned and looked after, but in a safe manner. All radiographers were provided with the correct PPE through various means, particularly at the beginning, when supply issues caused a few headaches. However, with support from University contacts and clinical colleagues, PPE stocks were maintained throughout.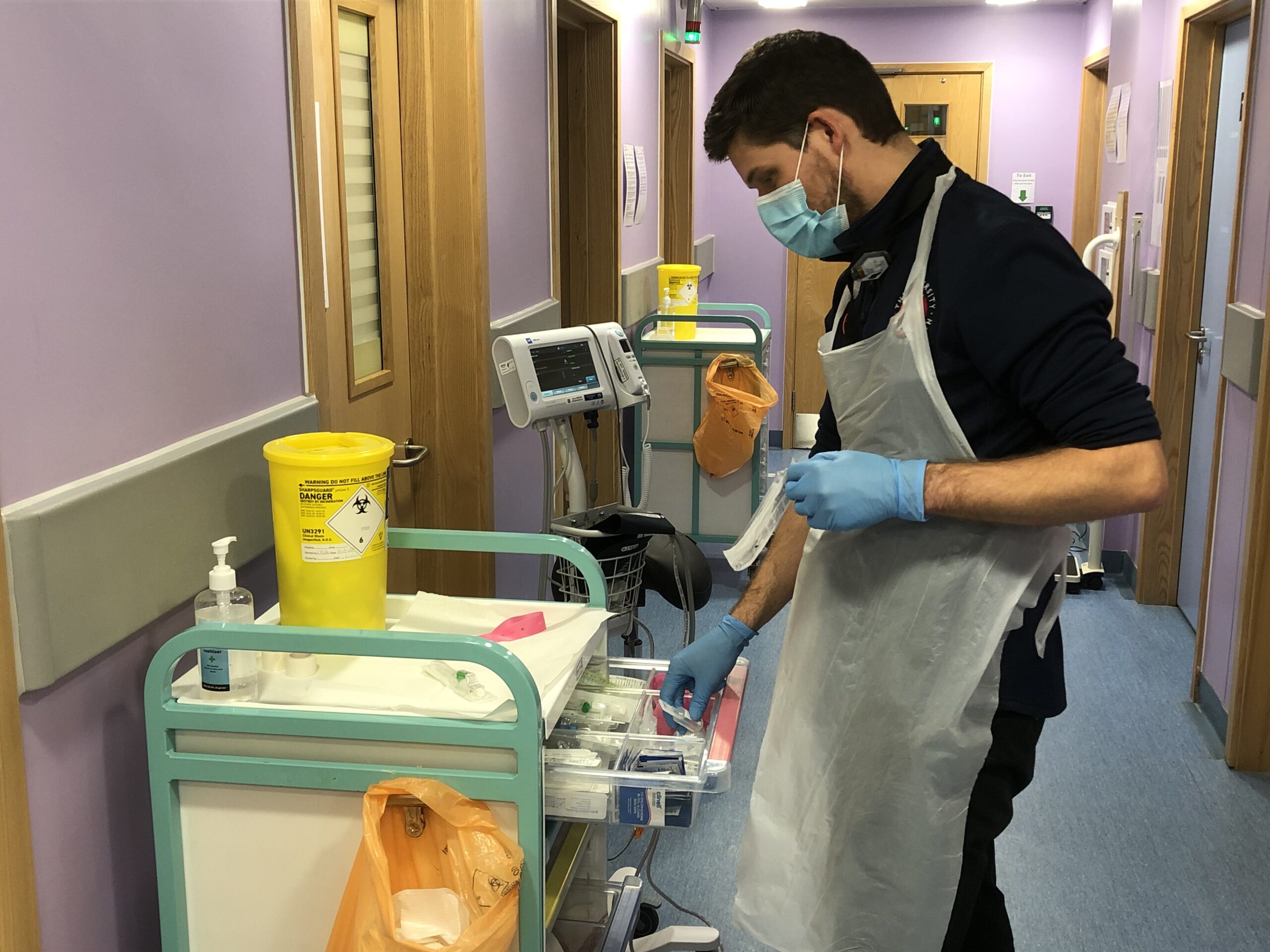 A new cleaning regime was introduced to make sure the facility remained Covid secure. Patient management was changed and several new waiting areas sprang up around the facility so that there were no issues with people waiting too close together. The numbers of people entering the facility were also limited and appointments were spaced out to accommodate social distancing.
Reassuringly, none of the team have tested positive for Covid-19 to date. This was another worry, and continues to be, as a positive result would inevitably mean a large proportion of the team would have to self-isolate.
Redeployment
Though no staff were redeployed into frontline Covid-19 services during the first phase of the pandemic, some colleagues did step up to take on new roles to support the wider team.
Anne Grant, Clinical Imaging Facilities Manager, said, "It became obvious early on in lockdown that we needed someone to greet patients and free up our radiography cohort for operating the scanners. The first few months were very challenging with reception being manned by our physicists, technicians, radiographers and any other volunteers who were able to help us. When lockdown was eased, we were able to welcome back our afternoon receptionist Irene McCulloch and in the past month we have welcomed Joey D'Arrigo as our morning receptionist."
Lucy Kershaw, MRI Physicist and Senior Research Fellow at Edinburgh Imaging, said, "I was lucky enough to get out of the house to cover on reception in the department, a job for which I am hopelessly under qualified. I had to ask someone how to open the front door from the reception desk, and which of our PET scanners was which. It's been a real pleasure to interact with members of the public for a change – physicists have so little patient contact normally. The highlight so far was guiding a couple to QMRI by phone after they got lost in Newington on their way from the Borders. They were having a heated domestic with each other and with their satnav, but I got them here in the end."
The team also acknowledged staff from outside the facility who helped keep the Edinburgh Imaging reception functioning over the lockdown period. Temporary receptionists Harriet Roxton, Lynn McKinley, Mike Jilka and Linda Sutherland manned the front desk, giving clinical staff confidence to carry out scanning procedures without having to be concerned about patient welfare in the reception areas of the facility.
Professional development
Staff have also been using the time to keep up to date with professional development. Charlotte Jardine, one of the Superintendent Radiographers at Edinburgh Imaging explains, "To maintain professional registration as a radiographer we need to keep up with continued professional developments in our rapidly evolving field. Day to day, we don't usually have time to dedicate specifically to this, so the team are using time at home to develop their knowledge on different pathologies, imaging techniques and current research. They are also using their time to learn new skills in Image analysis, tutoring for online MScs, governance and quality assurance and IT to support our research colleagues at this difficult time."
Returning to business
As restrictions began to ease, research slowly started up again and research scanning began to increase. The team has also been involved with two Covid-related studies. They are still continuing with a lot of clinical scanning, so the diary has filled up rapidly and this in itself has become a challenge keeping everything going.
David praised the team for their commitment over the past few months: "Throughout this year, the team have worked hard to keep going despite all the challenges thrown at us. Working together has definitely bonded us closer as a team and we are proud of what we have achieved. There have inevitably been pressures, not least not knowing how things were going to change from week to week, but throughout, a great team spirit and willingness to help out at all stages has meant we are still in good shape and have managed to keep everything going throughout lockdown and moving forward into the next stage of the pandemic."
This piece was originally published on the Scope website, which shares stories and views from the College of Medicine & Veterinary Medicine.
Do you have a similar story you'd like to share about your work or research? Let us know at bulletin@ed.ac.uk.