Reading time:
3
minutes
Many of us have been working differently since lockdown began earlier this year. Here, staff from Bioresearch and Veterinary Services (BVS), share how they have been helping to keep our research running and ensuring the health and welfare of research animals during the pandemic.
The Bioresearch and Veterinary Services team is responsible for the housing, care and management of animals used in biomedical research at the University.
The team provides veterinary and technical support for scientific staff to ensure high quality research and optimal animal welfare.
During lockdown, the team were given essential worker status to allow them to continue caring for the animals and for essential research to continue.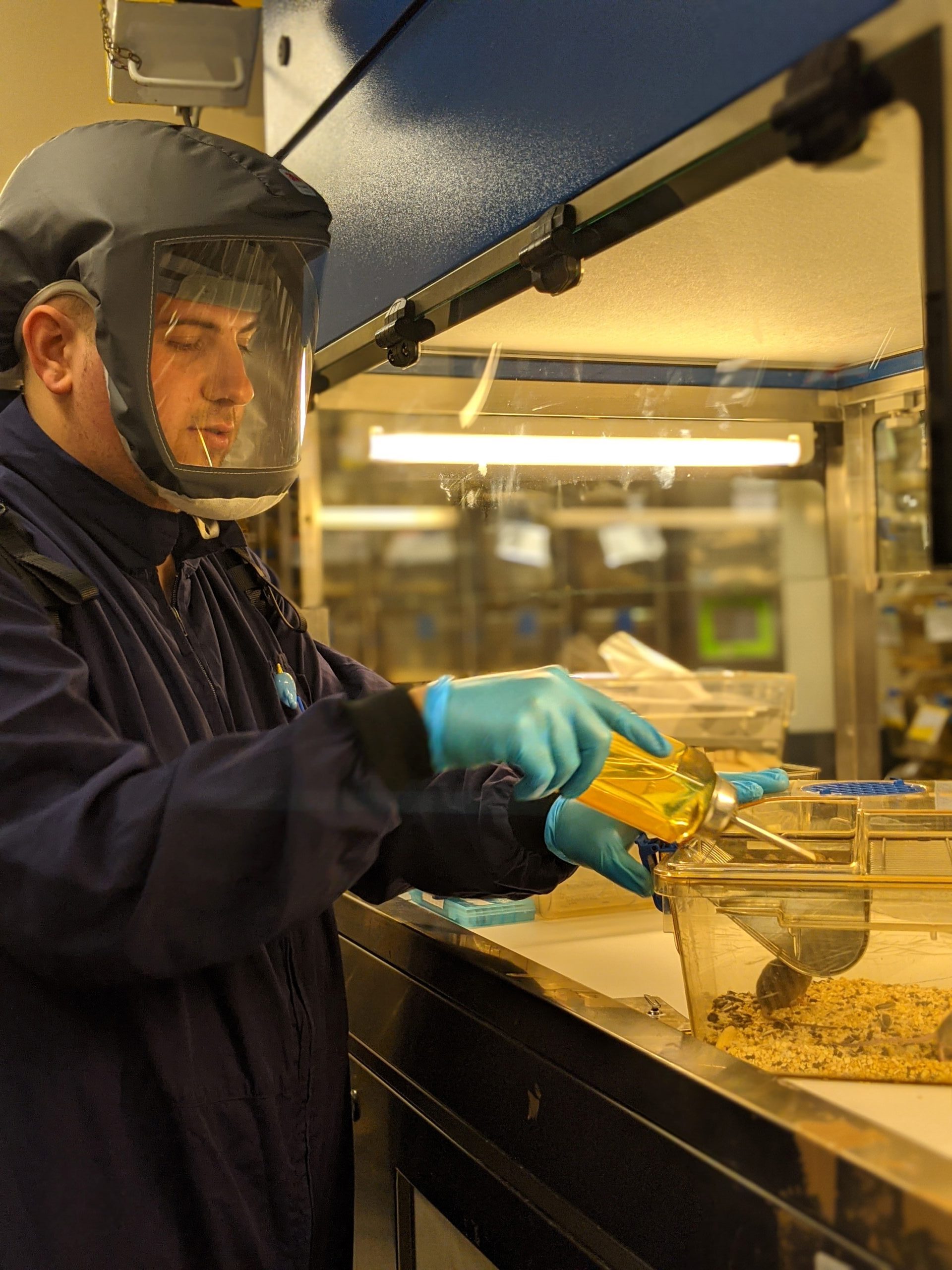 One of the BVS vets, Nacho, explained the immediate impact on their work, "The main challenge was not to be present in the animal units for a while. We had to cease all training and assessment of trainees and most of the experimental work stopped. Our technical staff continued to do the husbandry and look after the colonies, so we were reassured that the welfare of the animals was never compromised. Whenever there was a concern about specific animals, which was very rare, the techs were able to show us through webcams installed in all units and we would discuss the best course of action with them. Once we were able to resume some experimental work, the vets played an important role in the discussion around what studies should be prioritised and what controls should be in place to ensure that, as always, the welfare of the animals was a priority."
As with many areas of the University, some staff were required to shield during the lockdown period while others faced childcare challenges. Researchers were not permitted into the units, so the technical team were required to step up and carry out additional duties to ensure the continuity of ongoing research.
Kyle, one of the technical assistants in the team, said, "Working through Covid-19 has definitely had its worries. Thankfully at my place of work, the team I work with have all pulled together and tackled the stresses, strains and worries head on. Although work had quietened down, there was still animal care and facility cleanliness to deal with. We were also working on short 4 hour shifts, with fewer staff members due to shielding and the merging of two facilities. It has been strange with fewer procedures taking place, not seeing the researchers and work load at a minimum but we got there. My co-workers pulled together and were there for each other, which made the working environment less stressful.  Steps were also taken to ensure the chances of transmission were minimum and the staff felt safe."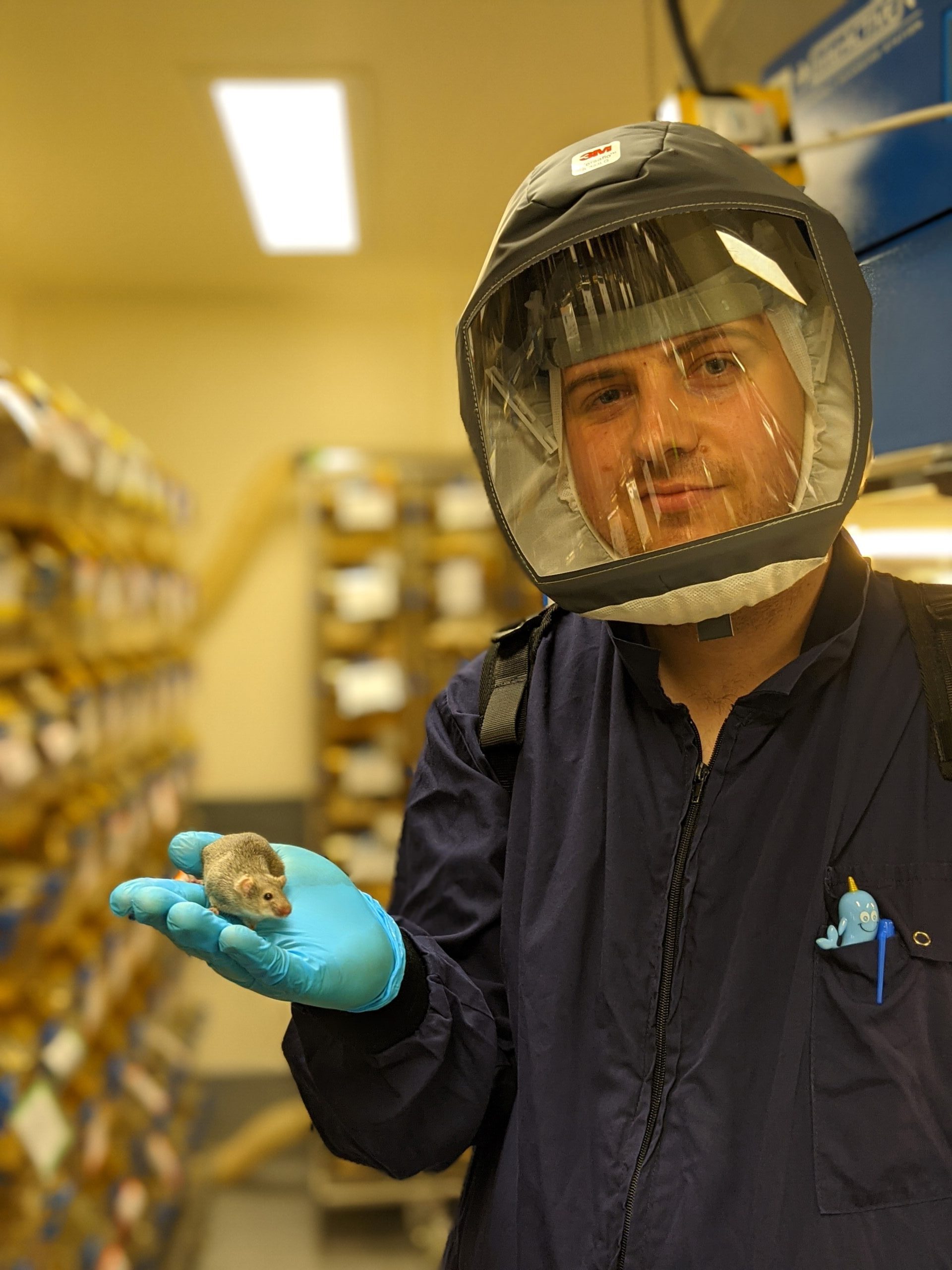 Roy, who also works in one of the facilities, added, "Mostly this has been a challenging but positive experience. Although at times a bit of a slog, the techs, cage washers and managers have all pitched in and we helped each other without complaint. The availability of staff from other facilities and research groups has been invaluable and all of them have also been willing to pass on knowledge."
The team's efforts have not gone unnoticed by our research community.
Dr Elisa Villalobos, a Postdoctoral Researcher in the Centre for Cardiovascular Sciences (CVS), recently highlighted the team's work with a Good Citizen nomination for the CVS newsletter. She said, "As researchers, most of our work relies on the use of animal models. During the lockdown this work was severely restricted, in some cases BVS staff were relied upon entirely to look after animals and carry out experiments for us. From a personal standpoint they have been excellent in not only looking after the wellbeing of my animals but also, they are always very kind and happy to help us to get the work done through colony maintenance, feeding mice with special diets, or carrying out specific procedures. All things that during regular, everyday, non-Covid times I and countless others do by ourselves. I am very grateful to the BVS team for helping to keep our science moving forward."
You can find out more about animal research at the University, including how it is regulated here.
This piece was originally published on Scope, which shares stories and views from the College of Medicine & Veterinary Medicine.
Do you have a similar story you'd like to share about your work or research? Let us know at bulletin@ed.ac.uk.