Reading time:
4
minutes
The outbreak of Covid-19 has been an uncertain and challenging time for everyone. Our staff have shown an incredible commitment to adapting to the ongoing situation, changing ways of working to address new issues and collaborating across teams to support each other.
The Communications teams across the University found they quickly had to spring into action to ensure that they were communicating key messages and the most relevant, up-to-date information. This meant an even higher level of coordination as teams worked to decipher the ever-evolving situation and produce supporting information and guidance.
Early on, the Internal Communications team in Communications and Marketing identified how difficult it was for our students and staff, spread across the globe, to understand the scale and complexity of the information available.
Building on the original Health and Safety webpage, new Covid-19 webpages were created for students and staff, and for three months a huge amount of work went into making sure these were comprehensive and updated regularly. As time progressed, and following the establishment of the Adaptation and Renewal team, it was clear that the webpages needed to be restructured and streamlined to effectively inform and support our communities.
Reassuring returning students
Following the successful remodelling of the Prospective Student FAQs by the Prospective Student Web Content team, and recognising the clear need to move towards more reassuring messaging for our returning students in the run-up to the new academic year, the Internal Communications team focussed on refreshing the FAQs for current students and created new 'Welcoming you back to Edinburgh' webpages.
With the objectives being to inform and reassure our returning students about what the new academic year will look like, the content was restructured into topics that addressed student concerns. This took on board the results of a recent student survey which identified pressure points with students, such as anxiety about returning to the UK and concerns about academic and student experience.
The content was simplified, moving away from the Q&A approach to make it more accessible, and relocated to the Student section of the website rather than focussing wholly on Covid-19.
The Internal Communications team worked closely with colleagues across the University to ensure a coordinated approach to providing accurate and consistent guidance. This resulted in a streamlined and comprehensive website, enabling our students to find out everything they needed to know in one place.
Building the website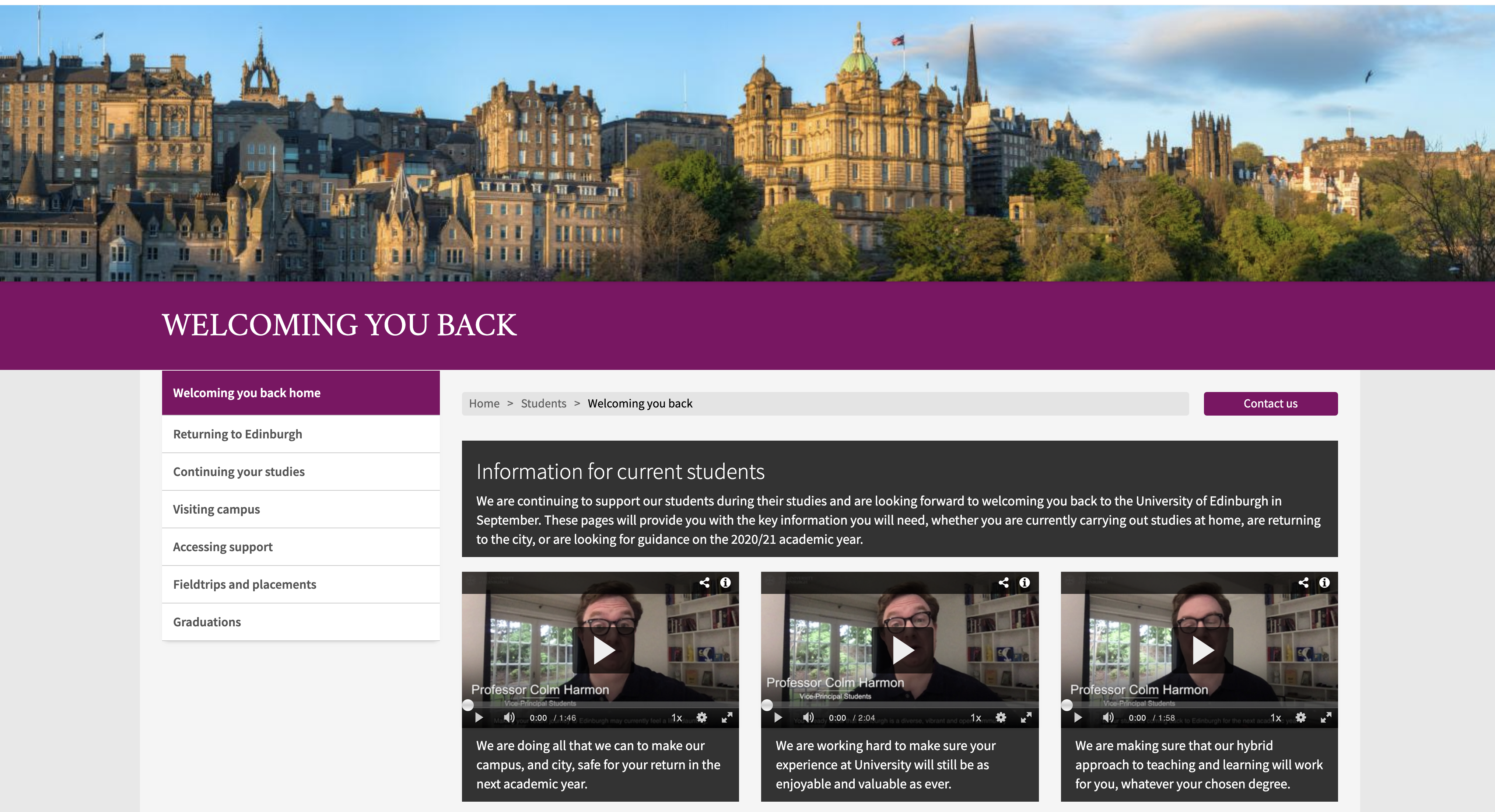 Dayle Craske, Internal Communications Officer talks bulletin through the process of building the website: "We started by reviewing all of the existing content within the FAQs, removed any out-of-date information and streamlined as much as possible. Based on the student pressure points, we created a new webpage structure and then identified the key areas of information that were missing."
Collaborating across teams ensured that information was provided effectively to a tight deadline. "With help from the Digital Marketing and Web Content teams within Communications and Marketing, and with input from colleagues in departments such as HR, Health and Safety, Accommodation Catering and Events, Information Services, Student Recruitment and Admissions and Edinburgh Global, we were able to create this new web structure with up-to-date information that answered the questions of our returning students."
As the website grew, so did the need for additional content. Dayle tells us how they supplemented the information on the webpages: "As part of our communications planning, we continue to collaborate with colleagues from each of the Adaptation and Renewal Student strands to publicise this information across all student channels, including targeted emails to focussed student segments, and across digital and social media channels. And of course we work with communications networks across the University to support Schools to signpost this new information further."
"Our video team has worked with Vice-Principal Students, Colm Harmon, to produce several short films which directly address concerns of our students. We have also created toolkits for student-focused staff in Schools, to help them to communicate these key messages of reassurance at a local level."
Importance of collaboration
The returning students webpages will continue to be updated as we move into the new academic year. The Internal Communications team continue to use an evidence-based approach to updating this content, based on monitoring incoming student enquiries and using market insights so they can update the webpages effectively.
The whole process of creating the 'Welcoming you back' communications showed how quickly we can be required to adapt, and how important it is to be able to coordinate messaging, and collaborate with our colleagues across the University. Although the University of Edinburgh is a huge institution, the past few months have shown how successful these creative and collaborative projects can be.
Photography: Guthrie Aerial Photography