Reading time:
4
minutes
Within the space of a few weeks, the nine-to-five changed completely and we want to know what yours looks like now. Each week we'll be sharing your new daily routines.
Here Stuart Tooley, Community Relations Manager, explains a typical day.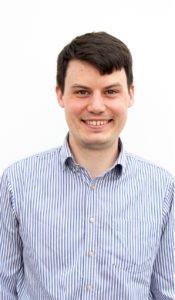 6:00am to 9:00am – My nine-to-five has changed of course, but the more significant change is the time before and after work. Before lockdown I would spend just less than three hours commuting per day. I am lucky, as my wife works in town so we would use the time to chat, do the crossword and listen to podcasts.
Since lockdown I have found it hard to readjust to what should be a more comfortable wake-up. I have totally ditched the alarm clock in favour of relying on my body clock, which would have previously been impossible – or at least extremely risky. I completely negate any benefit of that natural wake up by first looking at the most unnatural thing possible, the artificial light of my iPhone's twitter feed.
My wife is pregnant, and finds her natural rhythm is slightly later than mine, so I spend an hour or so pottering around downstairs before returning with a smoothie or toast for breakfast. I must admit to joining the homemade bread craze, probably utilising our breadmaker more in lockdown than in the four and a half years since we received it as a wedding present.
9:00am to 9:15am – My first job of the day is providing a second pair of eyes over a morning news and public affairs round-up that goes to senior leaders in the University. It is written by my colleague and is normally ready for me to proof before I have even opened my laptop. I fear the two weeks of annual leave she plans to take in July, when the joys of a 7:30am start will fall to me!
9:15am to 11:00am – My wife is a lawyer, and can't believe quite how different our working days are. She has hard deadlines, set by courts and clients, and must account for every 6 minutes of her time through a strict time recording regime which charges her time to her clients, and makes sure she is meeting targets.
On the other hand, my job, apart from being considerably less oppressive in time management, has a more fluid nature. I jump from video meeting to video meeting – almost always with other University staff – normally driving us into different rooms. "It is a wonder that you get any actual work done." It is a fair comment.
In a probably ill-fated attempt to prevent a life of back problems, I try to do at least one hour a day standing up. This is at a ridiculous standing desk I have created for myself by putting an archive box on top of my kitchen counters.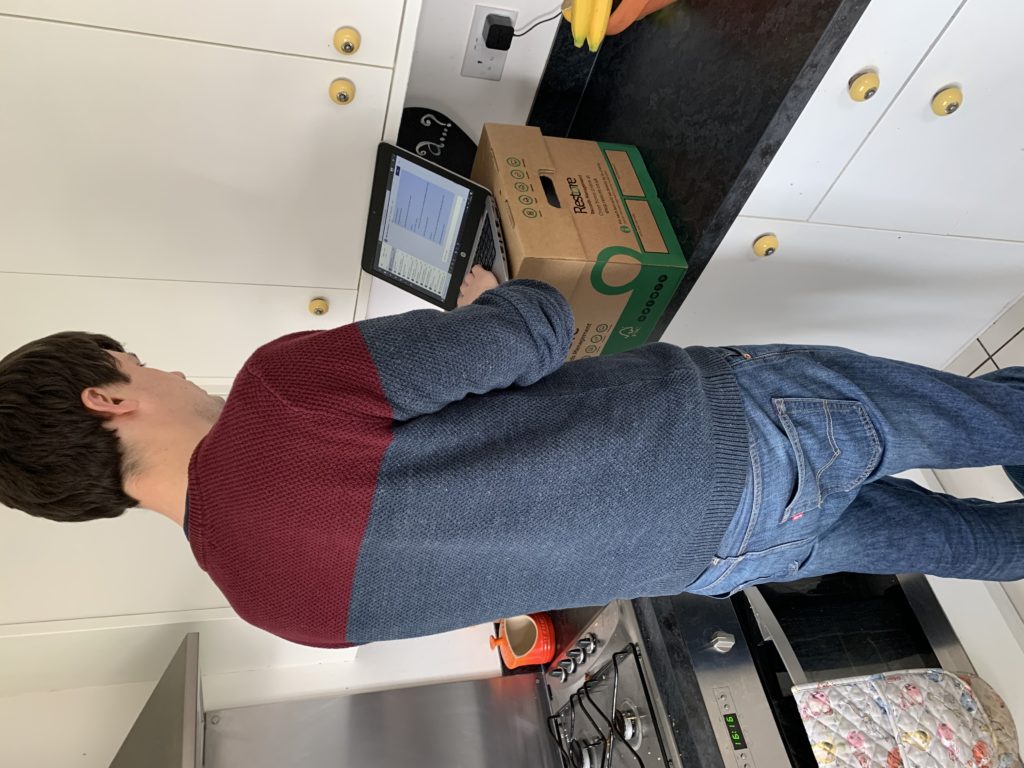 11:00am to 11:10am – Despite our busy days, there is always room for cake. My wife has the exceptionally rare combination of being both a good baker, and a vegan. Today's cake was a fantastic apple and cinnamon Bundt.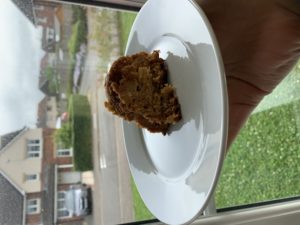 11:10am to 1:00pm – My job has been disrupted, and I no longer spend as long on community meetings, and when I do they are all on Zoom. As a result, I have got a bit more time in my day, which I is why I have been able to support colleagues in CAM in a couple of new cross-team efforts.
I don't want to get too in the weeds here, but it is interesting how we have managed to break down some of the 'working in silos' that existed in CAM prior to lockdown. Some of that I am sure is down to our building, which – as a former barracks – has long corridors with small rooms. In some ways, lockdown has precipitated the proper culture shift we needed.
1:00pm to 2:00pm – It is time for lunch, and I have been much better about taking the whole hour. We normally watch something soothing and low-stakes – recent favourites have been a Netflix competition to find the best pair of landscape gardeners, and Springwatch.
2:00pm to 5:00pm – My lap is once again topped by a computer, but now also one of my cats. It is a significant occupational hazard living with pets, for example: licking your face during your annual review, crying loudly for attention when you are giving a presentation.
The afternoon fills up with meetings and emails. My notebook is a holdover from pre-lockdown. I use it to track things I need to do, and things I am waiting on from other people. I have a terrible memory so I need to use that kind of trick.
I have also started a third list, the pithily named: 'things to return to after this is all over'. The name may need some work, but the list is full of work which might have happened if not for the coronavirus.
5:00pm to 6:00pm – On the days where I don't have an evening Zoom meeting with a community council, I have been trying to get out and walk. I am lucky enough to live just a few minutes from the beautiful grounds of Dundas Castle. The highlight has been watching the swans and cygnets on the banks of the lake.
What does your new nine-to-five look like? Share it with us at bulletin@ed.ac.uk