Reading time:
4
minutes
Since the start of the coronavirus pandemic, thousands of people have come together to offer their support to those on the frontline. Numerous members of our staff have been contributing to this effort, coming together in new ways, and uniting communities across Edinburgh.
Here Amanda Warr, Research Fellow at the Roslin Institute, explains how she's been helping out in her local community.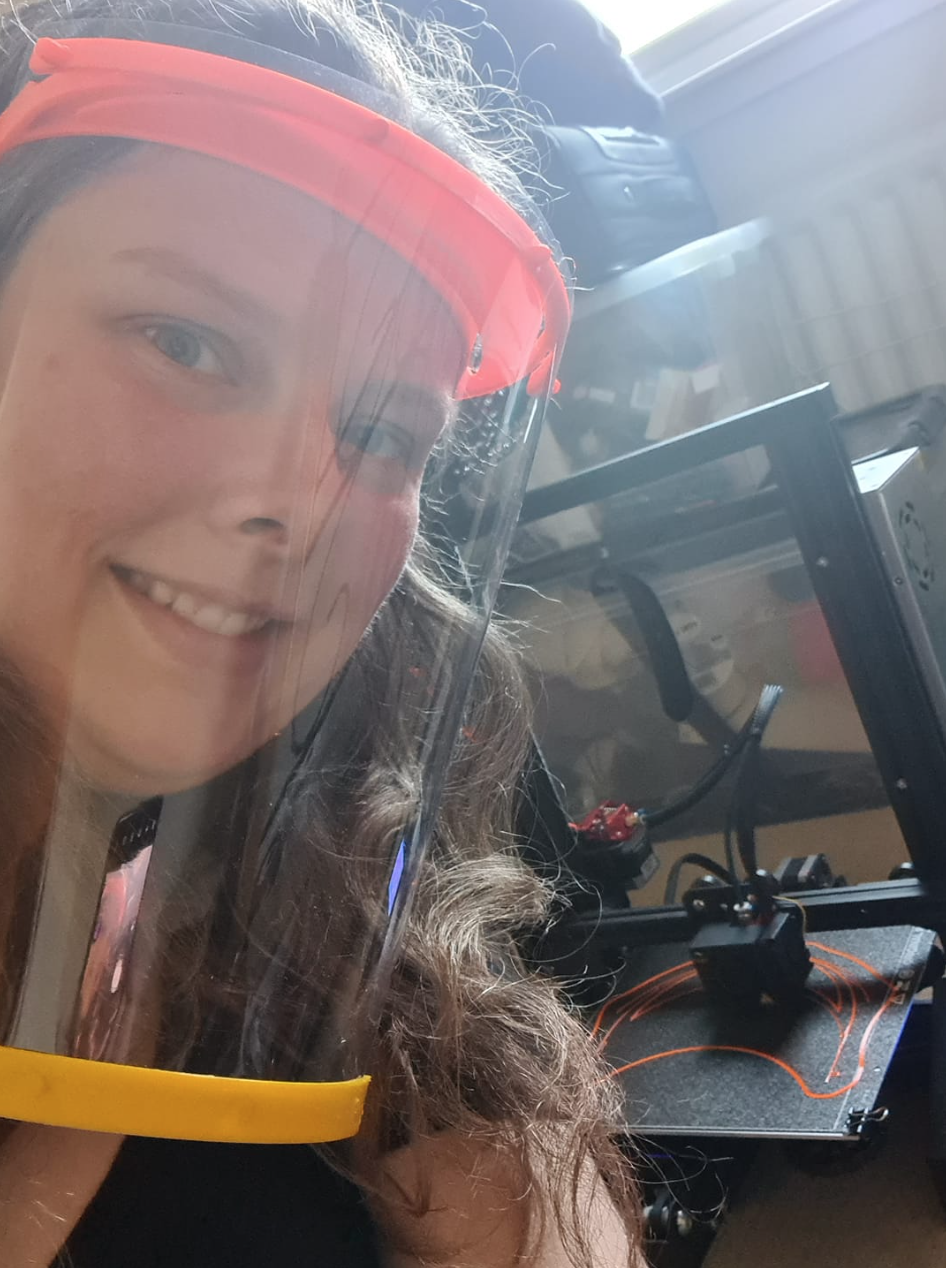 Please can you explain a bit more about your volunteering work.
I am part of a team in Penicuik who are using our 3D printers to make face shields. So far the shields have gone to a range of front line workers at 106 locations including hospitals, medical practices, care homes, pharmacies, funeral homes, veterinary practices, homeless shelters, food banks and carers. We don't charge anyone for the shields and we are funded entirely by donations from the community, who have been extremely supportive. Initially we were aiming to make them just for workers nearby who needed them, but we have filled requests from as far as Nottingham (although most are within Scotland). So far we have distributed 2,526 shields and 5 kits which contain unassembled parts for 100 shields each (including headbands, visors, tools for shaping the visors, disinfectant and zip lock bags) for people who need a continuous supply of visors or who want to distribute visors in their area.
How did you get involved?
I have been using a 3D printer for a few years, mostly printing as a hobby or printing bits of lab equipment. I saw posts on social media about 3D Crowd UK, a larger group bringing together people with 3D printers to make face shields, and I initially sent 120 parts to them to be distributed. Shortly after I started printing for them I brought the subject up on the local community Facebook page, where I was contacted by a local man, David Ritchie, who had already started fundraising and printing and he asked me if I wanted to join forces. We then formed the Penicuik Printing team and now have four people regularly printing alongside several volunteer drivers to deliver them. I manage the Facebook page and take orders and David assembles and disinfects shields before they are sent out. I have seen David from a few metres away, but most of the team haven't met each other and we only leave things on our doorsteps for the printing faerie to take away.
How do you fit it in around work commitments?
After hitting go on the printer it does its thing without needing much attention. My office is just across the hall from where the printer is, so while I am working I can just about hear it going and usually go to restart it when I notice it has gotten suspiciously quiet. It's actually a good reminder to get up and move around every now and then. The team communicate through a WhatsApp group but typically don't talk much during the day, everyone else has work commitments too. In the late afternoon on days when I have built up a stock of prints I put them in a zip lock bag on the doorstep and David comes and gets them and drops off more filament. The most time consuming part for me is troubleshooting; these printers really weren't expecting to have to work this hard and occasionally we have a bit of a hiccup. On days like those I usually spend my evening or weekend arguing with the printer!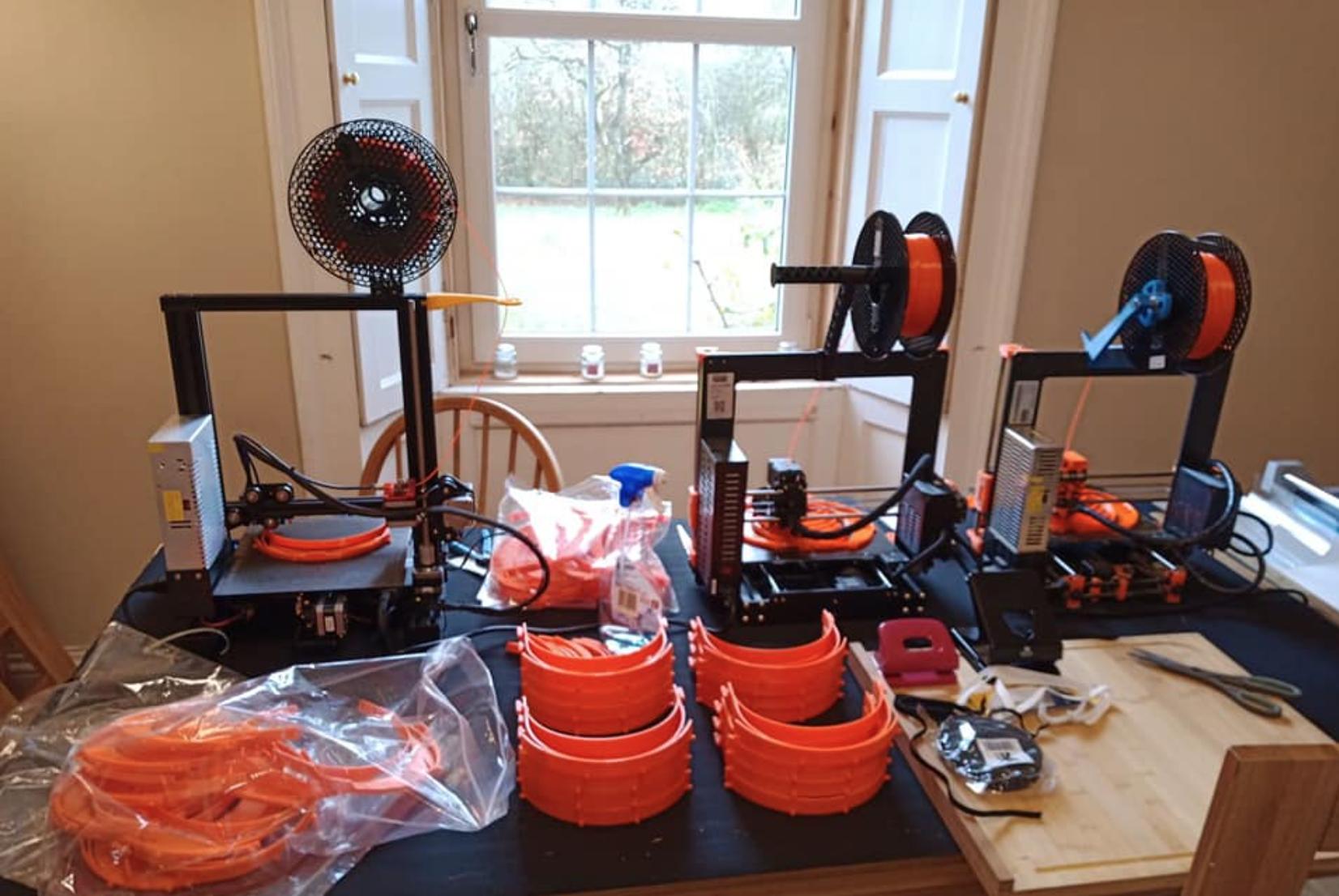 What have you learnt from the experience?
Prior to this I hadn't had an awful lot of communication with the local community, but everyone has really come together and are very supportive and it is great to see some positivity. I wasn't expecting to make many friends while locked in the house! It's great to see that one of our PhD students at Roslin, Richard Kuo, has recently joined us to help with printing too.
Unfortunately, I have also seen how frightened and desperate people are. Early on we had orders from hospital wards who couldn't get enough shields, though thankfully these are rare now. We have a lot of orders from care homes who know they have confirmed cases, and have unfortunately had residents die, and they can't get hold of Personal Protective Equipment (PPE). It can be quite stressful knowing people are in such dire situations, but it is very rewarding when they tell us how grateful they are for the shields and send us pictures of them in use. Orders have slowed a lot recently, which hopefully means that people have what they need, but we expect when more businesses start opening up more people will be looking for PPE so we may be in the calm before the storm.
I have also learned a lot about troubleshooting 3D printers, which I probably would have learned over a much longer time period otherwise!
How can others get involved and help this initiative/project?
We have a GoFundMe page which we use towards filament, visors, elastic, zip lock bags, disinfectant and printer maintenance. Any funds left over at the end (whenever that may be) will be donated to relevant charities and any extra equipment will either be donated to schools or sold and the funds donated to relevant charities.
We can also be followed on Facebook for updates on how the project is going. Anyone working somewhere that is in need of face shields can contact us through the Facebook page to ask any questions they may have and be added to the list.
Is there anything else about your volunteering you'd like to mention?
It has been a mixed experience, sometimes just adding stress to an already stressful situation, but it has been rewarding to be able to do something practical that can directly help people. I expect in the coming weeks to be applying some very different skills to the problem back in the lab, but will train my partner to continue running the printer while I am out!
Have you been volunteering in your local area? We'd love to hear about it. Drop us an email at bulletin@ed.ac.uk