Reading time:
3
minutes
Here Meg McGrath, Communications Co-ordinator in Social Responsibility and Sustainability (SRS), shares the team's pick of podcasts, books, documentaries and online courses for those who want to learn more about sustainability.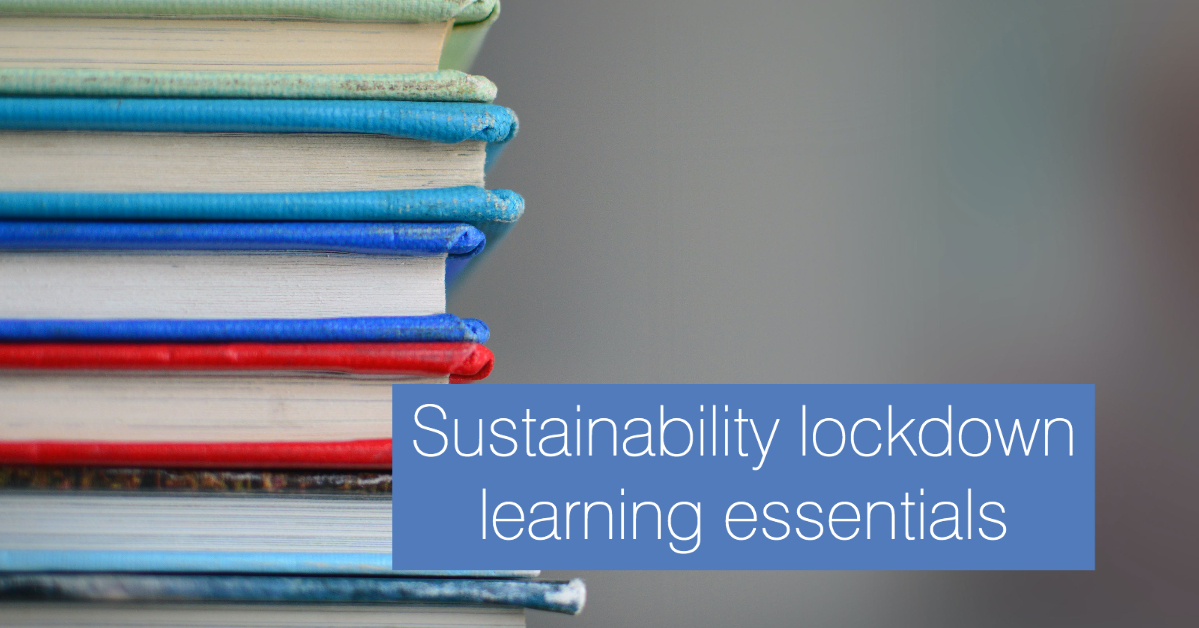 We've suddenly found ourselves with a lot more time on our hands. Without a commute or looming exam deadlines, people are restarting hobbies, gaining new skills and taking the time to learn more about a topic they've wanted to understand better.
If you'd like to learn more about topics related to social responsibility and sustainability, we've collated a list on a variety of issues for you to explore.
Podcasts
First up, we have a podcast co-hosted by Medical student Mikaela Loach and fellow climate activist, Jo Becker. Focusing on climate change, human rights and the many intersections between, learn from some important discussions on subjects like the refugee crisis and eco-fascism. Partly funded through our Student Project Grant.
Hosted by the former Secretary of State for Energy and Climate Change, Ed Miliband, alongside journalist Geoff Lloyd, they cover a variety of societal and environmental issues. Listen in on their conversations with world-leading experts on topics like universal basic incomes, modern masculinity and what a zero-carbon society would look like.
A weekly podcast hosted by the founders of Global Optimism discussing the many ways we need to change the status quo in order to tackle climate change, and starts with something in the news that either outraged them, or gave them hope. They believe "that outrage without optimism leads to defeatism, and optimism without outrage leads to unacceptably incremental approaches."
Dubbed a 'true crime podcast about climate change', this podcast explores climate change denial and the climate movement.
Thanks to our friends at EAUC for some of their recommendations too!
Online learning
Our own introduction into what climate change is, and some simple actions you can take.
Learn about what a world would look like whose resources are reused instead of destroyed, and how we get there.
Designed for Scottish organisations, this course gives you the skills to reduce the environmental impact of your place of work through a range of levels.
In response to libraries shutting and teaching disrupted, many academic presses have made hundreds of their titles available online for free. A great option for if you've got the appetite for something more challenging!
Books
On Fire, The Burning Case for a Green New Deal by Naomi Klein.
An introduction into what a 'green new deal' is, how a just transition would occur and why it's necessary.
Sitopia by Carolyn Steel 
Steel explores the modern world's troubled relationship with food and how the low value we place on it hurts our health, efforts to achieve equality and our planet. Learn about Steel's vision for a food revolution.
The Wild Guide Scotland by David Cooper and Richard Gaston
Plan your next staycation via this beautiful book. Find top tips for camping spots and waterfalls for wild swimming!
Rewilding by Isabella Tree 
This book explores the rewilding process of 1400 hectares of land undertaken by Tree and her husband. Gain an insight into nature and its state when untouched by humans.
The Overstory by Richard Powers
This is a novel about how humans relate to the natural world, an eye-opening story even for the biggest environmentalist among us.
Documentaries
Learn about the real victims of fashion: the people that made it. Learn about the damage fast fashion has on our planet and those who produce it, and what you can do to help. Available on Netflix.
Blue Planet 
Forget your garden, immerse yourself in nature on the other side of the world with an episode of one of the world's most famous documentary series. Available on Netflix.
The Cove 
This film focusses on the campaign against the illegal slaughter of dolphins in Japan. Available on Netflix.
The Plastic Wave
A surf photographer explores the impacts of plastic pollution on our oceans in a 25-minute documentary. Available on Youtube.
Visit the Social Responsibility and Sustainability blog for more information and articles.