Reading time:
4
minutes
Isobel Finnie, Teaching Fellow in Art and Design at Moray House School of Education and Sport, shares some tips to keep yourself, and your kids, creative at home.
Up until a couple of weeks ago, Microsoft Teams, Google classroom and Zoom were terms that washed in one ear and out the other. They described a distant, virtual land which I had no desire to visit. Like most of us, I've been grappling with the technology over the last few weeks trying to make sure I stay connected and that my students are able to continue being productive. In the process, I've discovered the joy of teaching from the top half only, whilst still wearing PJs and slippers on the bottom – and when else do you all get to introduce your dogs during a seminar? Having looked at many support guides for getting started on these platforms, I found this one most suited to my current level of expertise.
Visits to sculpture parks, presentations from art colleges and workshops with Forest School practitioners have been abandoned. In their place, my PGDE Art and Design students are completing small scale creative challenges, requiring little in the way of specialist equipment, and sharing them online. Those of you stuck at home and running out of ideas for things to do with your children might find these useful starting points. You'll find these and more over on our Twitter.
Try it yourself
The first of these tasks is inspired Gilbert Legrand, Javier Perez and Christoph Niemann. Find a small, every day object and reimagine the scale and purpose to incorporate it into a simple drawing.
The next task is inspired by Marc Pouyet and James Brunt. Go outside if you can, then collect, organise and photograph found objects – pets optional! Those with no easy access outdoors can still participate by raiding your cupboards at home.
Twittersphere
In November, back when no one outside the NHS had heard of Coronavirus, I created a Twitter account to showcase the work of #EdPGDE for prospective students. What I quickly discovered was an extremely supportive and generous community of artists, designers and educators willing to share their ideas and resources. I've found catalysts for new work and made connections for collaborations that I never imagined when I first began to post.
Now, when everyone is in lockdown, Twitter has come to the rescue again providing an outlet and source of light relief for many – here are a few of my favourites:
Museums and galleries may have had to shut their doors, but that hasn't stopped the Royal Academy from reaching out to the public at large.  Their #dailydoodle encourages people to share their drawings, quality is not a barrier!  Meanwhile, their social media person deserves an award for their hilarious commentary.
@GomersalArt showcase excellent primary school work in Art and design and are setting daily inspiration points and examples for families to try themselves.
@DarrellWakelam makes wonderful sculptures using nothing more than cardboard, tape and a lively imagination. His pages are filled with step-by-step images and lots of examples posted by children sharing their work from home.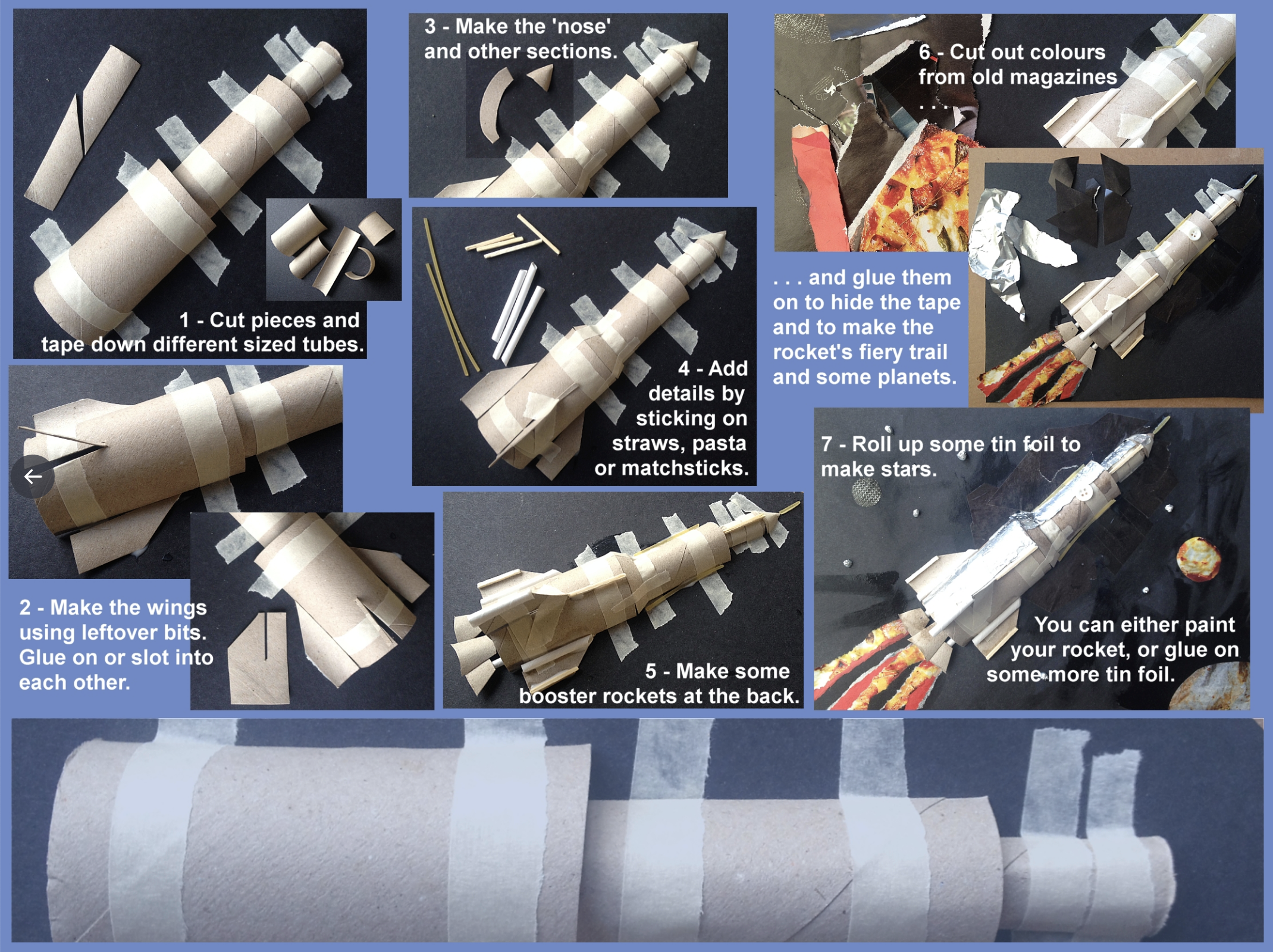 Inspiration online
The Scouts have form when it comes to providing inspiration for problem solving activities for young people. They have usefully collected a lot of ideas for solo and indoor tasks on one web page.
The National Society for Education in Art and Design (NSEAD) have been creating quality resources for teachers for years. They have made many of them free to access during the current crisis.
Similarly, AccessArt have waived their normal fee and made these resources free to download.
For those of you with older children who need some guidance with design projects, have a look at Daydream Believers.
Set up by Helena Good at Edinburgh College, it's a collection of real-life design briefs and activities created as a collaboration between colleges, schools and design companies. The tasks are engaging and the presentations are professionally produced. These are always free and I strongly recommend them for those studying Art and Design at high school.
And finally…
My inbox has been pinging with the latest completed work from the PGDE students.  Can't think where the inspiration for this transformation challenge came from…
Have you got any great tips for creative projects you can do at home? Will you be trying any of these? Let us know at bulletin@ed.ac.uk